As a best-in-class solution Knowledge Connect provides innovative features to integrate, search, enrich and share information.
Integrate
Organize all your information in one central place
Knowledge Connect allows you to gather extensive insights to your business environment. Integrate a broad range of external sources to the Knowledge Connect platform and combine them with your in-house knowledge to identify and adapt technological trends, monitor your competitor's actions or gather insights on market developments, regulations or M&A moves.

Sources you will be able to use include
Charts, Graphs, Financials, RSS Feed, Reports, Brochures, Presentations, Profiles, Articles, Press-Portals… and many more.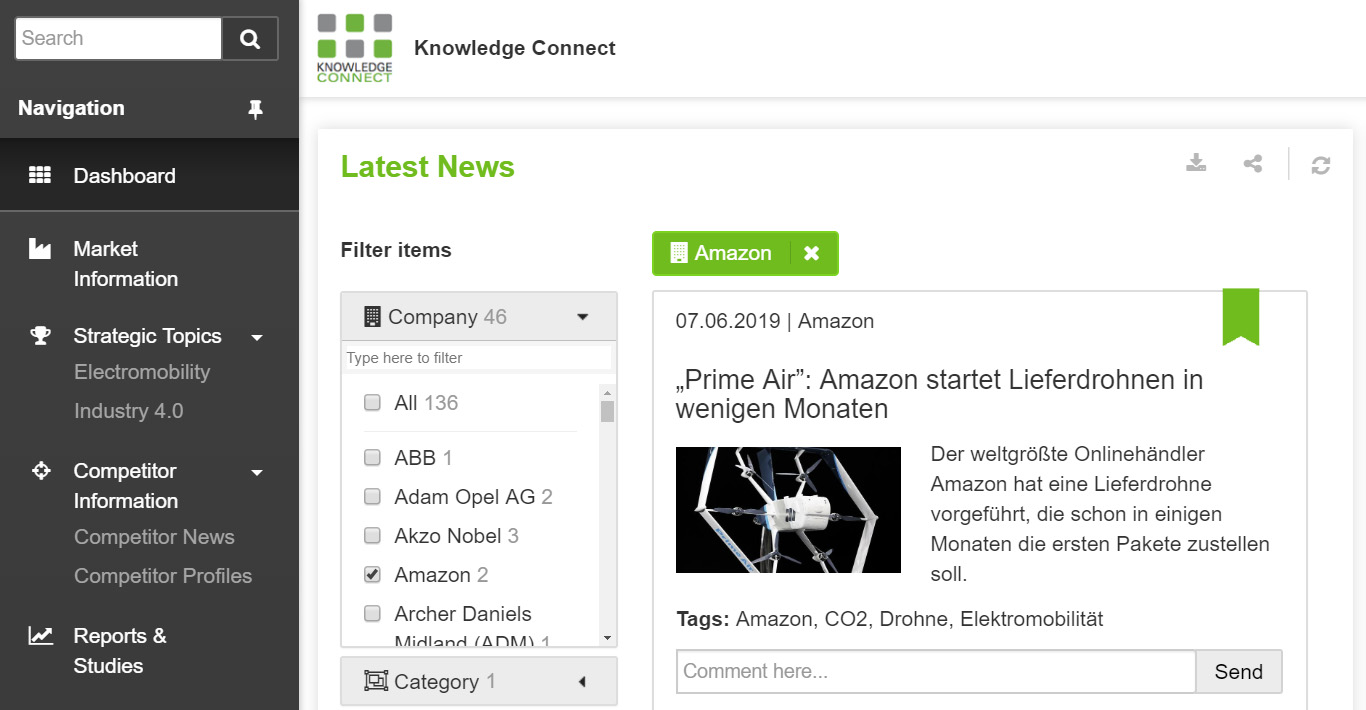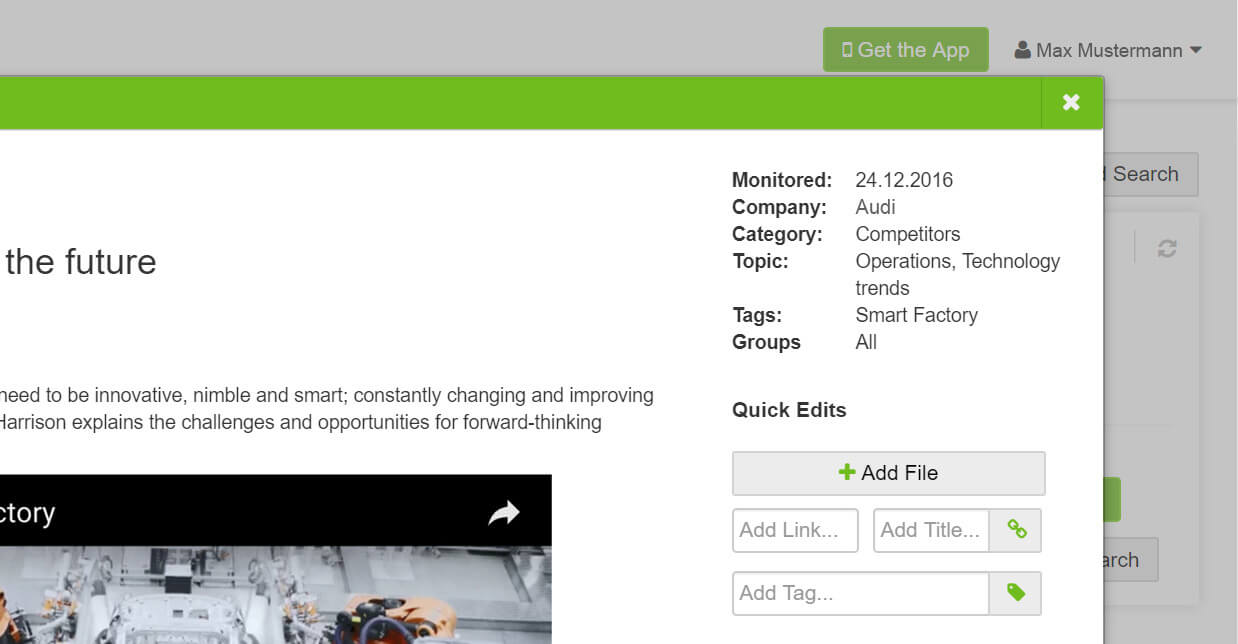 Search & Classify
Information just one-click away
With Knowledge Connect you will be able to build up your own taxonomy, search for specific information and classify the information based on companies, categories, topics or regions.

Using tags you can categorize your sources by technologies, themes, competitors or any other topic you desire.

Our intuitive navigation and smart search algorithm allows you to quickly identify the information you really need. Save your search results for later access or export the results to PDF or excel sheets.
Enrich & Cluster
Connecting knowledge owners to create actionable intelligence
Knowledge Connect provides a structured environment, where you can organize your users in groups such as business units, market segments, regions or any other classification. You define which information should be relevant for them.
Knowledge owners can comment, add or even rate information to enrich knowledge. Take advantage of collaboration features and make your decisions based on enriched intelligence founded on both structured and unstructured as well as internal and external knowledge.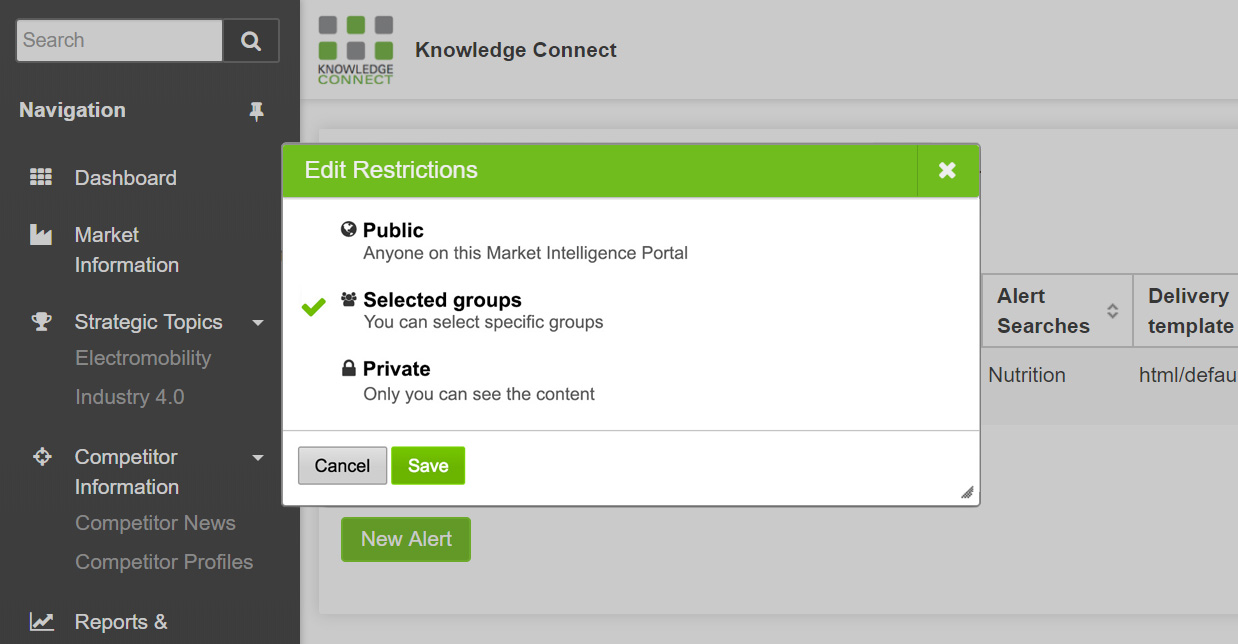 Knowledge Connect Editions
| | ENTRY | TEAM | DEPARTMENT | PROFESSIONAL | DIVISION | CORPORATE |
| --- | --- | --- | --- | --- | --- | --- |
| # of Users | 10 | 15 | 25 | 50 | 100 | 500 |
| PDF Exports | ✔ | ✔ | ✔ | ✔ | ✔ | ✔ |
| XLS Exports | ✔ | ✔ | ✔ | ✔ | ✔ | ✔ |
| File Attachements | ✔ | ✔ | ✔ | ✔ | ✔ | ✔ |
| Pre-defined Dashboard | ✔ | ✔ | ✔ | ✔ | ✔ | ✔ |
| Individual Dashboards | - | - | ✔ | ✔ | ✔ | ✔ |
| Custom Color Styles | - | - | ✔ | ✔ | ✔ | ✔ |
| Individual Logo | - | - | ✔ | ✔ | ✔ | ✔ |
| RSS Feed Library | Standard Feeds | Standard Feeds | Industry-specific Feeds | Industry-specific Feeds | Industry-specific Feeds | Industry-specific Feeds |
| # of RSS Feeds | 10 | 25 | 50 | 100 | 200 | 500 |
| # of User Groups | 3 | 10 | 25 | 50 | 100 | 200 |
| Group Templates | - | - | ✔ | ✔ | ✔ | ✔ |
| Group Alerts | - | - | ✔ | ✔ | ✔ | ✔ |
| Online-Training / Webinars | - | o | o | o | o | o |
| E-Mail Support | ✔ | ✔ | ✔ | ✔ | ✔ | ✔ |
| Mobile App | o | o | ✔ | ✔ | ✔ | ✔ |
| User Statistics | - | - | - | ✔ | ✔ | ✔ |
| o = available as an option | | | | | | |